Logiciel de piratage de Skype supprimé en ligne
Un moyen sûr de surveiller la correspondance, les appels et autres activités de tous les utilisateurs Skype.
Définir un numéro de téléphone pour lancer Skype Tracker
AppMessenger est une application fiable pour le contrôle parental de Skype : vous pouvez savoir avec qui votre enfant envoie des SMS et passe des appels, suivre sa localisation et savoir s'il n'est pas là où il devrait être, et bien plus encore. L'activation du mode "Parental Controls for Skype" est gratuite et disponible pour chaque utilisateur.
Téléchargement de tous les messages (entrants et sortants)

Afficher le journal des appels avec la durée des appels

Récupération du compte en cas de perte du mot de passe

Enregistrer la liste des contacts, des crédits et des abonnements

Suivi de la dernière position GPS à l'aide de coordonnées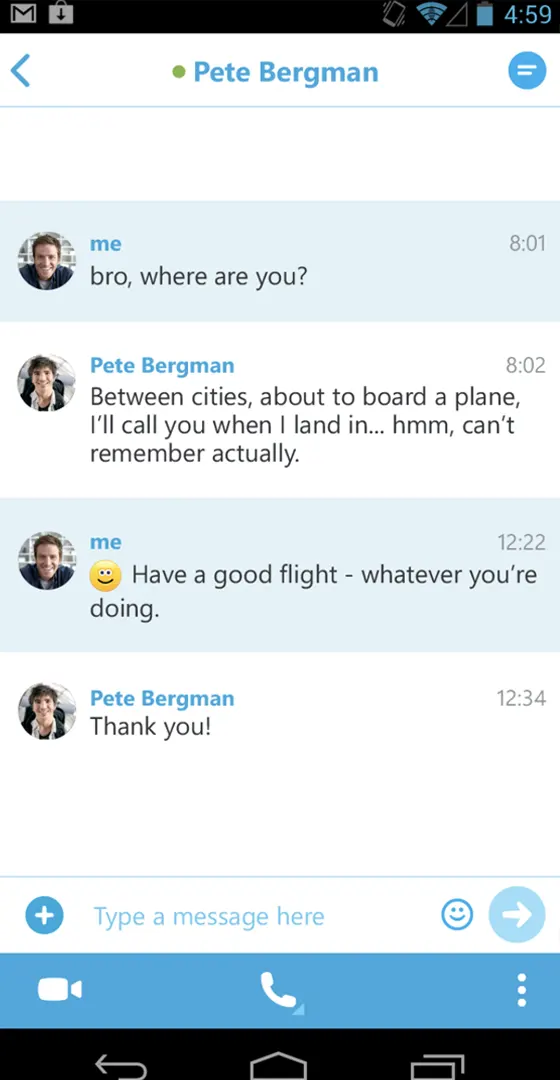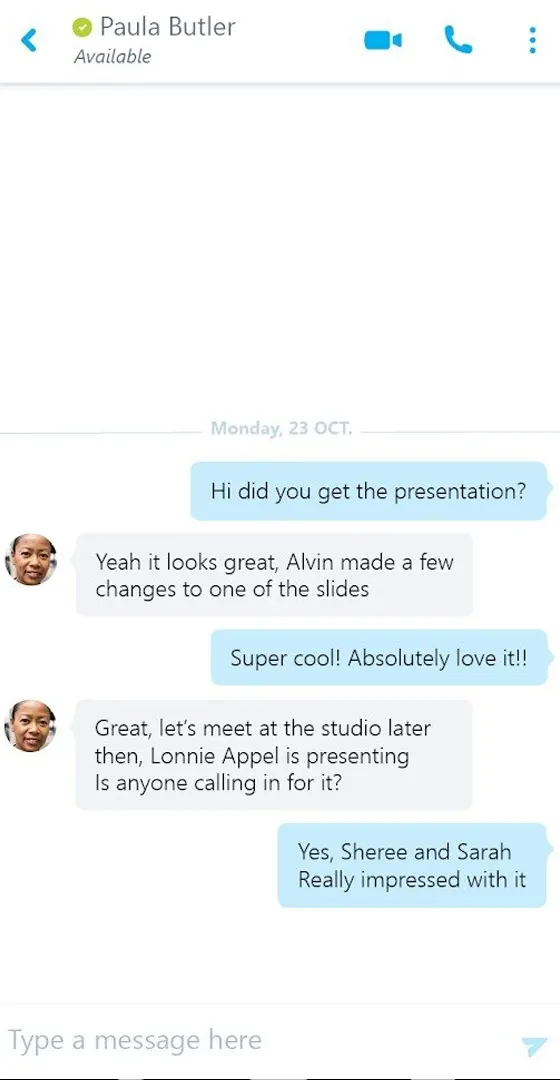 FACILITÉ D'UTILISATION, ACCÈS CONFIDENTIEL ET IMMÉDIAT
Online Operation
All you need to start tracker is to specify the phone number in the international format. Skype hack from AppMessenger doesn't require the download of spyware or additional configuration of the target device. Your target will receive zero additional notifications.
Quick Result
Using SS7 exploit to intercept an SMS containing verification code shows an effective result within a few minutes from the launch of Skype password hack. However, the download time of user files may vary and directly depends on the speed of your Internet connection.
Intuitive Interface
Skype SS7 tracking software is launched directly from the "Dashboard" section of the website. The application interface is understandable and friendly even for users with basic computer skills. In addition, if you have any questions our customer support is always ready to help you.
100% Secure
Developers of AppMessenger implemented end-to-end encryption system to ensure the complete security of customers. One of the best benefits of cryptocurrency as the main method of payment is "dehumanisation" of both the sender and the recipient of such payment.
Le piratage de Skype permet d'accéder à l'ensemble de la base de données du compte
Instant Skype Tracker through the SS7 Exploit.
The most effective way to use Skype password hack is to intercept incoming SMS containing verification code via SS7 exploit. This will allow you to remotely activate the target's account on the new device, which will be represented by Skype emulator. All files of the victim (received and sent text messages, call history indicating the logins, current GPS location data, chat inside closed groups, saved contact lists, attached photos and videos) will be almost instantly transferred to a single archive, available for download in the "Dashboard" section for a registered AppMessenger user. The SS7 Skype hacking trick is possible due to the widespread vulnerability of the cell networks throughout the globe, allowing to spy on incoming SMS remotely and without the consent of the target. You only need to know the phone number in order to run the complex algorithm. The process is fully automated and does not require involvement of any third party.
Correspondance via n'importe quel compte
Piratage de l'historique des messages et des appels de Skype
La correspondance de chaque compte Skype (y compris les messages textuels et vocaux et les fichiers joints) est stockée dans une mémoire unique sur les serveurs de Microsoft. Il y a également des informations sur les appels auxquels le titulaire du compte a participé (date et heure de l'appel, durée et participants). Ce modèle de stockage permet à AppMessenger de récupérer les données dans leur intégralité.
Skype - Ultimate Tracker for Mobile Device.
This is the first and most widespread application that provides the video chat function through to an Internet connection, which was created by Swedish developers back in 2003. At that time, the revolutionary solution allowed not only to see the person on the other side during the call, but also to significantly save money when using roaming. Now Skype is one of the most popular cross-platform apps in AppStore and Google Play and is available for download on all modern mobile devices, regardless of its type (smartphone, tablet, or PC) and the operating system installed on it (Android, iOS, Windows, or OS X).
Despite the excellent user data protection system, the application is able to transfer user files, including: full history of correspondence, location points of the device, log of incoming and outgoing calls, including their duration, as well as contacts from the contacts list. Nowadays Skype password hack is a common service, available to any interested user. The procedure for transferring user data starts when a new device is connected to an existing account.
How to hack Skype Remotely Using SS7 Tracking?
To hack Skype without physical interaction with the target's device, it is necessary to intercept the verification code sent via SMS to the registered phone number during the confirmation of the account transfer. A popular solution is used for this purpose, namely, SS7 exploit, which supports the widespread vulnerability of cellular networks. The target's account will be fully moved to the AppMessenger Skype emulator, where the archive containing the user files will be formed later. The whole process takes place in a fully automated mode, you only need to specify the phone number. The archive is already checked by the anti-virus and is completely safe for downloading.
Typical Reasons for Hacking a Skype Account:
Regardless of the goals pursued by the variety of AppMessenger clients, our policy is centered on the need to keep privacy of users and never to be interested in the reasons for hacking Skype.
These can be:
monitoring of employees within your company
remote tracker for children and family members
recovery of personal account data in case of password loss.
No need to obtain consent and confirmation from the target favourably distinguishes AppMessenger among other spyware apps.
Is it Safe to Use the Skype SS7 Tracker?
The structure of AppMessenger Tracker is developed with the key emphasis on the security and anonymity of resource users. Hacking Skype occurs on the background via the SS7 exploit of mobile networks by a phone number. This way, the target will never know that the Skype account has been hacked and someone has gained access the correspondence, incoming/outgoing calls and media files.
Developers of AppMessenger has integrated a double end-to-end data encryption system to completely eliminate the possibility of identifying clients. The resource administration does not have access to user databases. Attention! Please save the password to access the personal account immediately, because its further recovery will be impossible in case of loss.
Please consider these few important things when using the AppMessenger SS7 Tracker:
Online Skype hacking tool can be used on any modern mobile device. The main requirements are the presence of a stable Internet connection and one of the following browsers: last version of Google Chrome, Safari, Mozilla Firefox, Internet Explorer, MS Edge or Opera.
Skype hacking time may vary depending on AppMessenger server load. As a rule, a full operation cycle (from launching to archive downloading) takes no more than 20 minutes. Since the archive size can exceed 2 GB of disk space, its downloading time depends on your Internet connection specs.
AppMessenger Tracker works in full invisible mode and does not affect the normal operation of the device. It is undetectable to any malware scanner and antivirus. The battery power is consumed as usual without any additional operations on the device.
As a result, users receive an archive of the following targets files: incoming and outgoing text messages, current location data, call history with the indication of a dialog partner and conversation duration, contact lists, as well as received and sent photo and video files.
Using cryptocurrency as the primary payment method allows you to hide the transaction participants. Thus, the identification of the sender and the recipient of the payment becomes impossible, regardless of the source and the form of the request.
If you have any questions we will be happy to answer them! Your suggestions and ideas are important to us – feel free to leave some in the Feedback Section or contact our Customer Support Team.
AppMessenger Tracker est entièrement compatible avec les opérateurs de téléphonie mobile mondiaux.